"Crochet for a Cause" at Mississippi Cancer Institute
Posted On:
Written By:

Dorsey Statham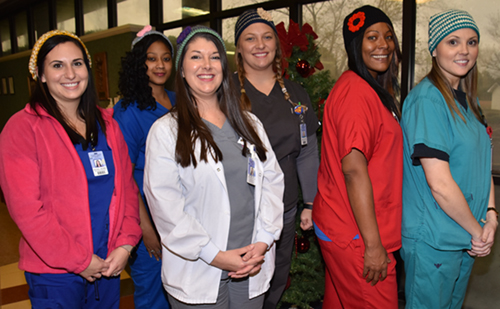 Fourth, Fifth and Sixth graders of All Saints Catholic School in Lewiston, Idaho selected a Cancer center from each state in the Union and knitted caps for patients. "Crochet for a Cause", is a service project Principal Denise Hammrich implemented to teach the children to crochet caps. The students even sacrificed part of their recess time to make the caps and as they knitted, they prayed for the cancer patients who would be receiving them.
Hammrich said, "We included a little prayer, 'God is watching over you, I know because I asked Him to', and it meant so much for the students to have this service project during the Holidays.
Chastity Burnette, Director of the Mississippi Cancer Institute said patients were delighted to receive the beautifully hand-made caps and were amazed at the complexity of the designs by students so young.
Left to right: Rachel Wilson, RN, Brandi Fischer, RN, Lalitha Butler, Medical Assistant, Elizabeth Kapler, RN.
Back Row: Roshonda Young, Medical Assistant, Mindy Alexander, Charge Nurse, Infusion Center modeling the caps patients were about to receive From students at All Saints Catholic School in Lewiston, Idaho.