Southwest Auxiliary Delivers Scholarships
Posted On:
Written By:

Tina Brumfield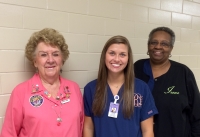 Willie Barbier, Courtney Bates, Irene Scruggs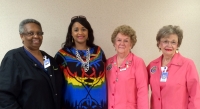 Irene Scruggs, Shanell Faust, Willie Barbier, Patricia Skipper
Two Medical Center employees will start school this Fall with an extra $1,000 toward tuition. Shanell Faust and Courtney Bates were selected from a group of nominees for the Southwest Auxiliary Scholarships following an application process and interviews.
Shanell has been with the Business Officer for nearly 19 years and is the face we love to see upon entering the Main Lobby. She serves as our Patient Portal Adviser. She took some classes offered by Southwest Regional at Southwest MS Community College, but was a bit afraid of going "all in" and taking a full load of classes toward a degree. As she was helping her son Donnie, the SMCC Counselor, Pat Young, suggested Shanell would enjoy classes there as well. That semester, the one class Shanell had on campus ended up being in her son's same class!
Her hope is that degree in Businss Administration will broaden her growth at Southwest Regional. Dealing with the daily physical battle of Lupus has made her more determined to complete a degree. She said, "The disease weighs on me emotionally, mentally, and physically, but one of the best medicines I have is being able to interact with the many wonderful patients at Southwest." She added, "It's therapy for me and heals me in more ways than one can imagine." She and her husband, (Markie) Wayne Faust have 5 children and 5 grandchildren.
Courtney Bates received her Associated Degree from Southwest MS Community College last year and has worked in the Physical/Occupational Therapy Tech Program of Outpatient and Inpatient Rehab Department since 2014. She plans to obtain her Bachelor's degree in Nutrition and Dietetics at the University of Southern Mississippi in May. She plans to start her internship and take boards to become a registered dietitian.
When notified of winning the scholarship Courtney said, "It's such a relief for my dream to further my education becomes less of burden to my parents who have been so supportive of me!" Her academic honors and programs include the USM National Honor Society, the Peer Mentor Program and the Student Nutrition Society. She was Secretary in the SMCC Student Government Association and in Phi Theta Kappa Honor Society and President of Tri Beta Biological Science Club. She is the daughter of Louis and Stacy Bates.
We are proud of these two fellow employees!