SMRMC Scrubs for Floods
Posted On:
Written By:

Dorsey Statham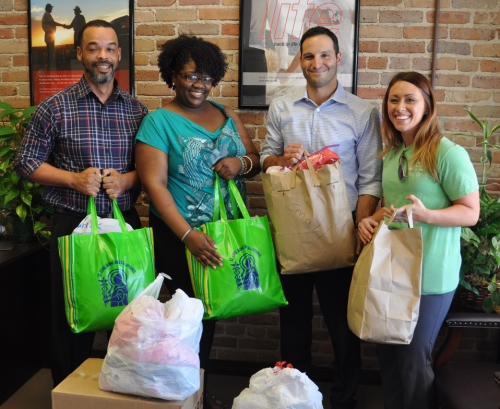 Shawn Patterson, State Farm Account representative, Tonya Jackson, State Farm Account Rep., Jake LeBlanc, State Farm Owner/Agent, and Kayla Toups, St. Luke Home Health & Hospice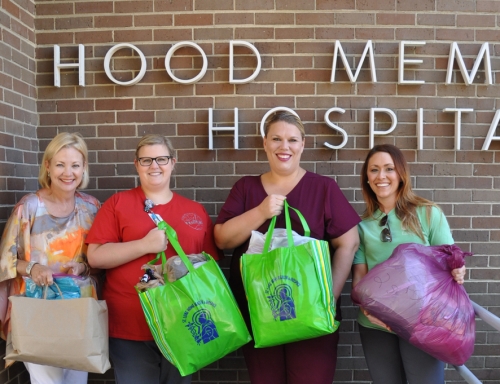 Tina Brumfield, SMRMC, Christie McLaughlin, Hood Memorial Cert. Pharmacy Tech, Brooke Hughes, Hood Memorial LPN and Kayla Toups, St. Luke Home Health & Hospice
When the floods came to our part of the world, Simmons Copeland, RN, thought of others first. She asked her fellow employees at Southwest Mississippi Regional Medical Center to donate gently used scrubs. She knows nurses and clinicians will go to work no matter how bad the damage is at home because they are "called in their profession to heal others." The Emergency Department, Simmons area, came through first with boxes and boxes of scrubs. The other departments were quick to add to the number.
There was overwhelming support from hundreds of employees packaging each set of scrubs and lab coats in individual bags with the size labeled on the outside for easy distribution. Kayla Toups, Hospice Marketing Director with St. Luke Home Health & Hospice and Public Relations/Marketing Director Tina Brumfield were able to make the first delivery of scrubs to Hood Memorial Hospital and the State Farm Agency in Amite, LA. Both were gratified to see the hundreds of scrubs for employees and customers who had lost everything. Hood's Human Resources/Public Relations Director Alicia Chatelain said, "We are overwhelmed by the generosity shown by your employees. It is awe-inspiring". She added, "It is encouraging to see the widespread compassion and humanity both near and far."
Accepting the scrubs were two employees of Hood who lost everything, Christie McLaughlin, Certified Pharmacy Tech and Brooke Hughes, LPN. Brooke told the group she had tried to save photographs but no faces remained on most of them. She said, "But my family is safe and I have a wonderful place to work and help others. When I get down, I remember that."
State Farm Owner Agent Jake LeBlanc said he knew tons of people who lost everything including he and his young family. His wife is a nurse in Baton Rouge and the majority of people she works with had loss.
She will take half of the scrubs with her to distribute.
The Scrubs for Floods gathering of scrubs will continue through Friday, September 9. You may bring scrubs in individual plastic bags labeled on the outside with the size. Please drop them at the Southwest Mississippi Regional Medical Center Main Lobby Patient Services Desk