Temporary Visitor Restrictions
In an effort to protect everyone that enters any of our hospitals, we are announcing some temporary restrictions to our hospital visitor policy that may affect who can accompany you during an upcoming appointment or scheduled procedure. These changes also affect hospital-based clinics and procedure areas.
Read more about temporary visitor restrictions - SMRMC HOSPITAL
Get your COVID-19 Vaccination!
Vaccination Locations and Scheduling Information HERE
---
COVID-19 TESTING – Co-pays collected at time services are rendered.
*This does not include any fees that may be incurred from the COVID-19 test or any additional testing performed.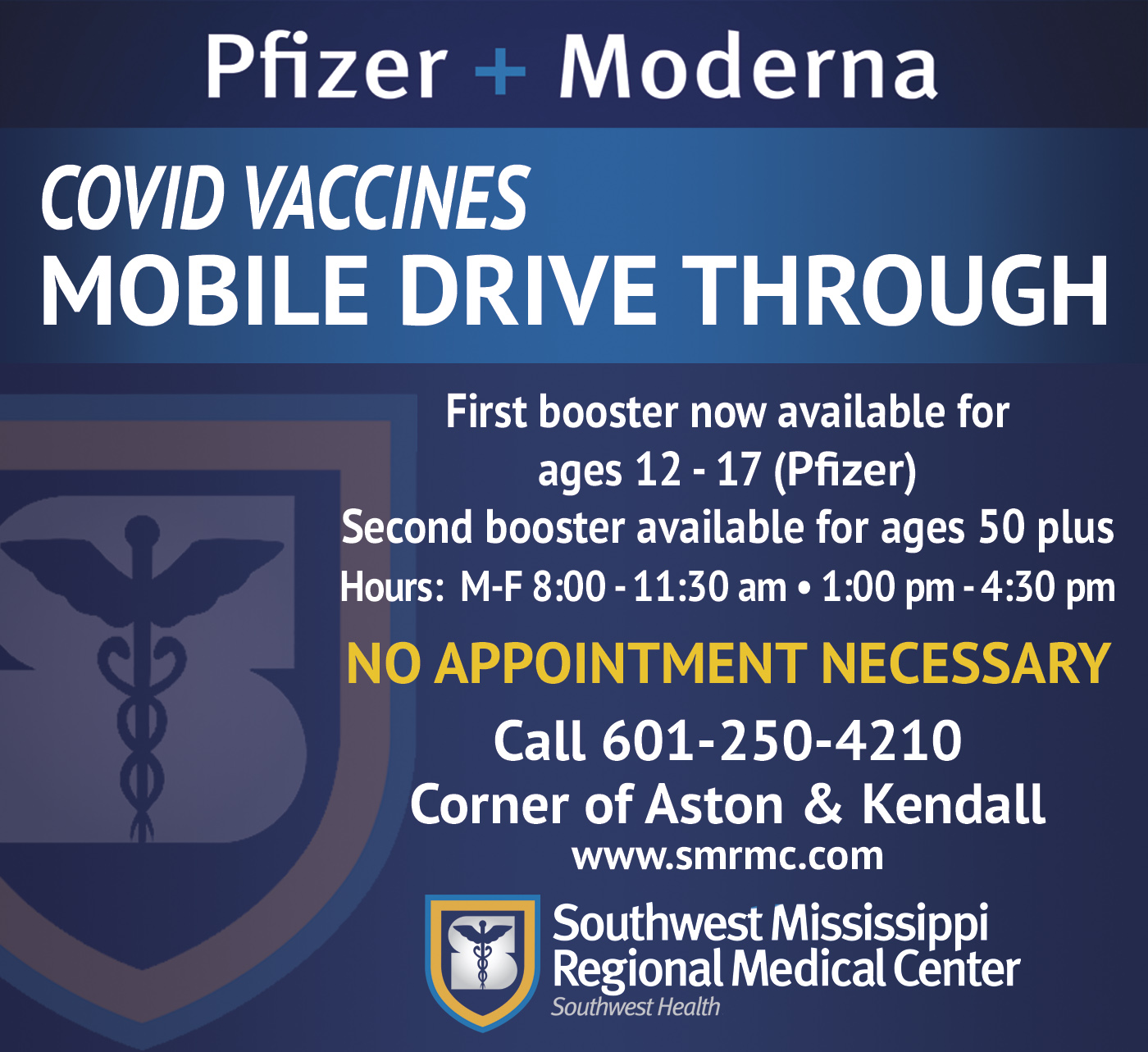 ​
This page will be frequently updated to reflect current information related to the coronavirus and COVID-19.
The Southwest Mississippi Regional Medical Center is closely monitoring novel coronavirus cases throughout the world and in the United States. The World Health Organization on March 11 declared COVID-19 a global pandemic.
Most acute care hospitals in Mississippi have the facilities necessary to screen, isolate and care for COVID-19 patients.
FAQs
---
These FAQs will be frequently updated to reflect current information related to the coronavirus and COVID-19. To see our full list of frequently asked questions about coronavirus globally and in Mississippi, click below.
View All FAQs
COVID-19 Cases
---
Mississippi Cases
Mississippi State Department Health is working with state doctors and hospitals to respond safely and effectively to COVID-19 in Mississippi.
Check with Mississippi State Department of Health here: MSDH.
Global Cases
Click here to view a dashboard of global COVID-19 cases, including confirmed U.S. cases, from Johns Hopkins University of Medicine - Coronavirus Resource Center.
Coronavirus Disease 2019 or COVID-19 is a new strand of coronavirus to infect humans. It was first detected in China and has now spread around the world, including the United States. Information on COVID-19 is constantly changing. As the CDC continues to update information, here are five basic facts you should know about COVID-19.
What are the symptoms of COVID-19? COVID-19 is a respiratory disease. Some symptoms may include a runny nose, cough, sore throat, headaches and possibly fever and loss of taste and/or smell. For people who have a weakened immune system, such as the elderly, the very young or immunocompromised patients, symptoms can become severe quickly and can cause serious respiratory tract illnesses, such as pneumonia or bronchitis.
What preventions and treatments are available? Currently, there are vaccines to prevent COVID-19. Please read the Myths and Facts About Covid-19 Vaccines. The best way to prevent illness is to avoid being exposed to the virus. There is no specific treatment for COVID-19. People who contract the virus should receive supportive care from their healthcare team to help alleviate symptoms. People with a severe case will need care that involves support for vital organs. Some everyday preventions the are:

Avoid close contact with people who are sick
Avoid touching your eyes, nose and mouth
Stay home when you are sick
Cover your cough or sneezes with a tissue and immediately throw it away in the trash.
Disinfect objects that you frequently use, such as your phone, computer, purse, remotes, chargers, kids' toys, water bottles, etc.
Wash your hands frequently with soap and water for at least 20 seconds, especially after going to the bathroom, before eating or after you cough or sneeze.

What should I do if I think I have COVID-19 and if I have shortness of breath and a fever greater 100.4? Reach out to your health provider or call 249-DOCS, that's 601-249-3627 to get in touch with a healthcare provider today.
The Mississippi State Department of Health is answering questions you may have at the new COVID-19 hotline, 877-978-6453. Check with them during regular business hours, 8-5 Monday through Friday. The MSDH website is also a primary resource for coronavirus information 24/7: http://HealthyMS.com/covid-19
Words of advice from the experts, the safest place for you, unless you may require hospitalization, is home. But, if you realize that you are very ill, we are here and we are ready and prepared to take care of you!