Danny D.
Author: Danny D.
Date Submitted: Oct 7, 2019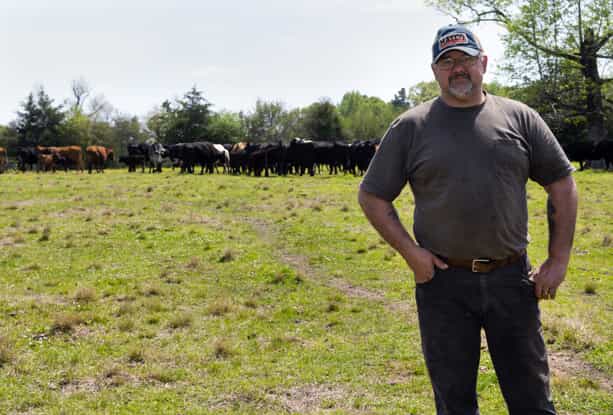 Danny Duplantis of McComb was dealt a bad hand, but he came out a winner anyway. The bad hand was heart disease on both sides of his family, and his own first heart attack at 34. The jackpot was triple bypass surgery at the Cardiovascular Institute of Mississippi in McComb, which left the 50-year-old back in business. "A couple days ago I was running by foot chasing cows out of the pasture," Duplantis said.
Heart disease plagued both sides of Duplantis' family, and his oldest brother died of a massive heart attack at age 45.
Still, Duplantis was shocked by his own heart attack at 34.
"I was assistant driller on a drilling rig, and on my two weeks off I was was roughnecking on water well rigs," said the Houma, La., native. He also played league spoftball and liked to wade-fish rivers.
He had to have five stents then and five more later.
Things went well until last fall, when he underwent a stress test and his Louisiana cardiologist said he was due for double or triple bypass surgery. They scheduled the surgery for a couple weeks later — then Duplantis' wife Misty started having chest pains.
They went to the Southwest Mississippi Regional Medical Center emergency room, where Danny started feeling unwell also.
"They had us both in the back," he said. "It ended up being anxiety for her. She got out. They decided to keep me."

Duplantis was suffering from angina, a medical term that simply means chest pain. But it's not always so simple.
Angina can include a variety of sensations.
"Sharp pains," Duplantis said, summarizing his own experiences. "Sometimes it feels like there's a load of weight on your chest. You can't breathe. Sometimes it feel like your heart's about to explode. I've had it where it was shoulder pain. There's not one certain association with it."
According to the American Heart Association, "Angina is chest pain or discomfort caused when your heart muscle doesn't get enough oxygen-rich blood. It may feel like pressure or squeezing in your chest. The discomfort also can occur in your shoulders, arms, neck, jaw or back. Angina pain may even feel like indigestion."
When Duplantis had his heart attack in 2003, he had chest pains and trouble breathing. "It felt like a truck was sitting on my chest," he said.
Doctors found 100 percent blockage in the main ascending artery. Fortunately his heart sustained only minor damage.

Back at Southwest last fall, Duplantis was admitted and saw interventional cardiologist Dr. Carl Feind. They discussed Duplantis' condition, and Feind said Duplantis could either wait for the originally scheduled bypass or stay at Southwest, where thoracic surgeon Dr. Craig Adams could do it sooner.
Duplantis decided to stay.
He had come in on a Saturday night, and Adams did the triple bypass open-heart surgery on Tuesday in the cardiovascular center, which adjoins the main hospital. Duplantis stayed another four days while recovering.
Back home, he had to spend eight weeks with no activity. The biggest pain was from having his chest cut open. St. Luke Home Health came to help out during that period. And it helps that his wife is a nurse.
Now he's back to work at Oliver's Auto Sales, run by his father-in-law Earl Oliver. And he fools with cows on the side. All the while he's waiting on a chance to go back offshore.
"I can tell a difference now. I got short of breath pretty quick before," Duplantis said.
"It's taken awhile. I'm slowly getting there. It's like Dr. Adams told me, I won't be back like I was in a year or better. I probably do more than most people who just had triple bypass."
Duplantis' medications are about the same as they were before the surgery: Crestor to control cholesterol, Plavix to prevent clotting, meds for blood pressure.
"There was no other medication added. I think they took one off," he said.
As for the cardiovascular institute, "It's been excellent. I love all the nurses. Dr. Adams is great, wonderful bedside manners. I have no complaints with this place whatsoever — other than Dr. Feind wanting me to go on a diet," he said with a laugh.
Actually, Duplantis has tried to improve his diet, eating more vegetables and avoiding starches.
Duplantis came out a winner, and he has advice for other people in improving their odds.
"If they have a family history, they need to get checked regularly. That's something I never did, even knowing both sides of my family were eat up with heart disease," he said, noting his son checks his cholesterol and blood pressure regularly as a result.
"Try to eat right. Exercise," Duplantis added.