Scrubs Contest contenders at McComb Family Practice Clinic
Posted On:
Written By:

Dorsey Statham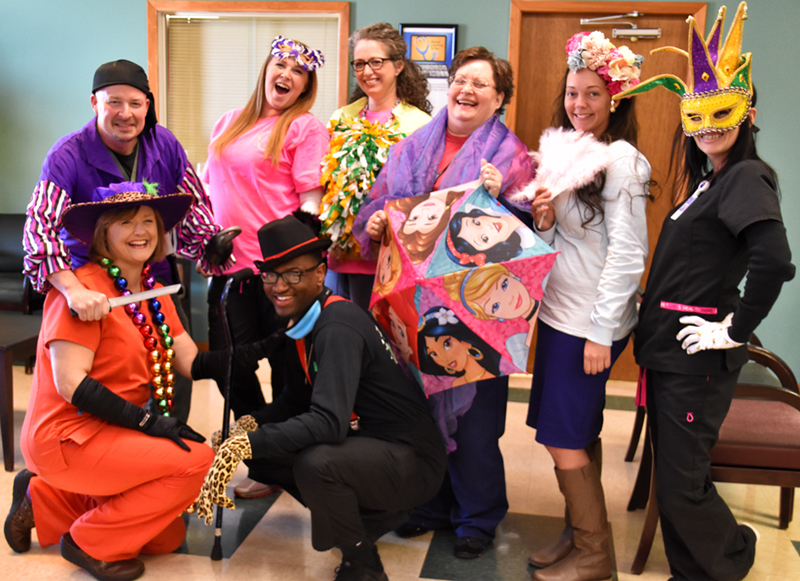 This team is ready for the Scrubs Contest in conjunction with the event, OPERATION, to be held March 30 from 6 until 9 pm at The Mill in McComb.
Kneeling are Marcie Aldridge, CFNP and LaMichael Bonds, LPN Standing are Eric Hill, CFNP, Tara McCullough, Receptionist, Allie Wood, RN, Peggy Chilsolm, RN, Diana Livingston, Receptionist, and Kiim Duncan, Receptionist.
Winners of the Go Wild for Gayle Contest secure the coveted Traveling Trophy with their team name engraved for posterity. Gayle Cornwell, a beloved member of the Medical Foundation, lived her fabulous and fun-loving life for Christ and serving others. We honor her with this Award.
The $25 ticket includes a delicious buffet of foods including a Shrimp & Grits station, Smoked Brisket with BBQ and rolls, Ahi Tuna with Chopped Salad, Caprese Sticks and four kinds of small cakes including carrot, red velvet, and two types of chocolate, as well as Coca Cola products.
Games including a life-sized OPERATION and corn hole will be offered as well as a Photo Booth sponsored by Nationwide Insurance, Ralph Price.
A limited number of VIP tables are offered for $500 and include VIP seating, private waiter, and other special treats.
VALET parking courtesy of the Southwest Mississippi Community College Soccer team is offered.
Sponsors include Nationwide Insurance, The Pharmacy at The Medical Center, Entergy, First Bank. Enterprise-Journal, Southwest Package Store, Cork & Cask, Southwest Distributors, Stokes Distributing, McComb Coca-Cola, Dr. and Mrs. Ali Homayuni, and the Darville Turnage Agency.
Monies raised will be used to assist patients with life-threatening illnesses who have no other source of help.
Tickets are available at PJ's Coffee or by calling 601-250-4283.